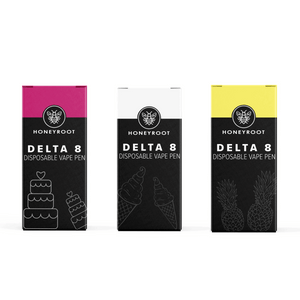 HoneyRoot Delta 8 THC Disposable Vape
What is Delta-8?
Delta-8 THC is in the same family as the regular THC we all know... Delta-8 is an analog of Delta-9 THC. Delta-8 will still, stimulate appetite, reduce nausea, and soothe the pain. Delta-8 works by exhibiting a psychological effect and will affect your body and mind.
Gelato Strain:
Gelato will provide a calm and relaxed body high that is great for nighttime relaxation. Startup your favorite Tv show and unwind after a long day with this strain.
Device:
One-time use and toss disposable vape capable of recharging if needed. Slim and sleek similar to the JUUL electronic cigarette device but none tobacco or nicotine, just D8 THC. Toke away in complete discreetness while still maintaining your cool.
---
We Also Recommend
---