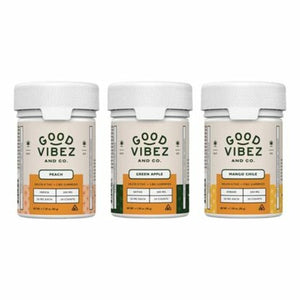 Good Vibez Delta 9 THC Gummies 100mg | 10 count
Harnessing the full power of the best hemp extract, these Good Vibez Delta-9 Gummies are here to change the way you see hemp-derived THC! Manufactured using only the finest American-grown hemp, these gummies are fully compliant with the 2018 Farm Bill and compliant with Federal law.
---
The game-changing Peach INDICA Good Vibez Delta-9 Gummies meld together your love for sweet southern peach, with the powerful and strong delta 9 THC experience that you've been searching for! These peach-flavored gummies are the perfect balance of sweet and strong!
---
The delicious Green Apple SATIVA Delta 9 THC Gummies bring together the delicious sweet apple orchard taste you crave, and every bit of the relaxing vibes that you need! These apple-flavored gummies are a hit for anyone looking for a relaxing heady experience while at the same time satisfying that craving for sweet, freshly picked apple!
---
The one-of-a-kind Mango Chili HYBRID Delta 9 THC Gummies are uniquely sweet and slightly spicy delta 9 gummies that you need to experience to believe! Combine the tropical sweetness of mango with the slight kick of chili and discover why Good Vibez has created the sweet treat hemp-derived THC flavor blend that you can't pass up!
---
We Also Recommend
---