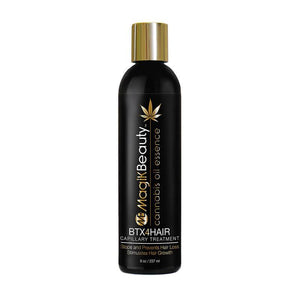 Magik Beauty - CBD Bath - Cannabis BTX4Hair Capillary Treatment
Magik Beauty Cannabis BTX4Hair Capillary Treatment is formulated to repair any broken hair fiber with a powerful blend of concentrate active ingredients, Oil essences, and cannabis leaf oil extract. This unique blend will moisturize, nourish and revive hair right from the very first use, adding incredible shine and softness to eliminate frizz. Our cannabis top secret formula will stop hair loss, add hair growth, repair split ends, stress out hair, gives you better mood and will revitalize any hair type or any hair condition.
Directions:
1. Wash with clarifying shampoo 2 to 3 times to ensure hair is completely free from any old residues
2. Dry hair with a towel, leaving it damp. Pour BTX4Hair into a bowl.
3. Divide Hair into 3 sections.
4. Apply Magik Beauty Cannabis BTX4Hair Capillary Treatment to every divided section with a brush, starting from the root to the ends. Apply a decent product amount until hair is saturated; Wait for 45-60 for product to process. (If hair has been discolored or processed leave it for 20 minutes only)
5. Rinse with plenty of water until product has been completely removed.
6. Blow dry hair well and divide hair into 3 sections.
7. Flat iron hair using a professional 450° flat iron and make sure hair cuticle is sealed completely. (If hair is damaged or thin reduce heat to 350°)
Lab Reports
Cannabis BTX4Hair Capillary Treatment by Magik Beauty Lab Report
---