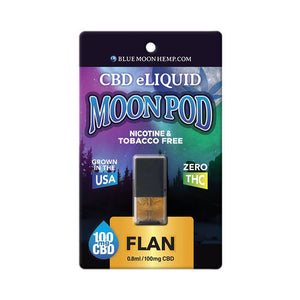 Blue Moon Hemp - CBD Pod - Flan Moon Pod - 100mg
What's it taste like? Give in to your sweetest desires, minus the sugary guilt. If you're looking for a great desert-like pick me up, look no further. Blue Moon Hemp formulated the highly sought after taste of Madagascar vanilla beans—the most expensive and popular variety of vanilla. The exotic and luxurious vanilla beans flavor combines with caramel to create a silky crème brûlée taste. Feel the delectable, buttery, decadence of this perfectly smooth Moon Pod with a full body and long finish. This creamy flavor profile is sure to enchant dessert lovers everywhere, so go ahead and have a second helping.
Why Moon Pods? You're sure to get an amazing, sumptuous taste, but you can also rest assured that you're getting an awesome experience too. Thanks to this universally compatible design, you can attach your Flan flavored Moon Pod to almost any vape device on the market and swap it out, no hassle. Try rotating between Blue Moon Hemp's three most popular flavors—Flan, Kush and Red Devil! These universally compatible Moon Pods make vaping even more convenient than ever before. Get your daily serving of CBD at 100 mg of CBD per pod—a medium potency effect that should satisfy most people. This product is perfect for you if you want to enjoy a high quality product that's uniquely dessert-like while you vape. What's even better is that these Moon Pods have no nicotine, no tobacco, and no THC. Say goodbye to harsh chemicals and failed drug tests, and say hello clean CBD vaping!
Side effects? CBD is a plant-based compound that's not known to cause any serious side effects. The most commonly reported side effects are mild drowsiness and occasional dry mouth.
Don't forget to check out these other great items by Blue Moon Hemp! They offer a delicious and wide range of products from CBD oil, to hemp oil, vape oil, vape oil refills, eliquid, e-liquid refills, CBD tincture and CBD shatter.
Lab Reports
Blue Moon Hemp - CBD Pod - Flan Moon Pod Lab Report
---